California Perinatal Quality Care Collaborative (CPQCC) Redesign
CPQCC is a network that improves care for vulnerable infants and family. In short, they save babies. So when they approached us about a website redesign, we jumped at the chance to support their mission and help them build a more accessible website to help their members find the resources they needed, and highlight their important work and accomplishments.
Flow-charts
The work CPQCC does isn't easy. There are a complex set of variables that determine how care is given, and how data is tracked. To this end, we built an interactive flowchart functionality so that providers could more easily and quickly determine the right course of action.

This code was able to be used in multiple instances so CPQCC could really drill down and geet providers the answers they need.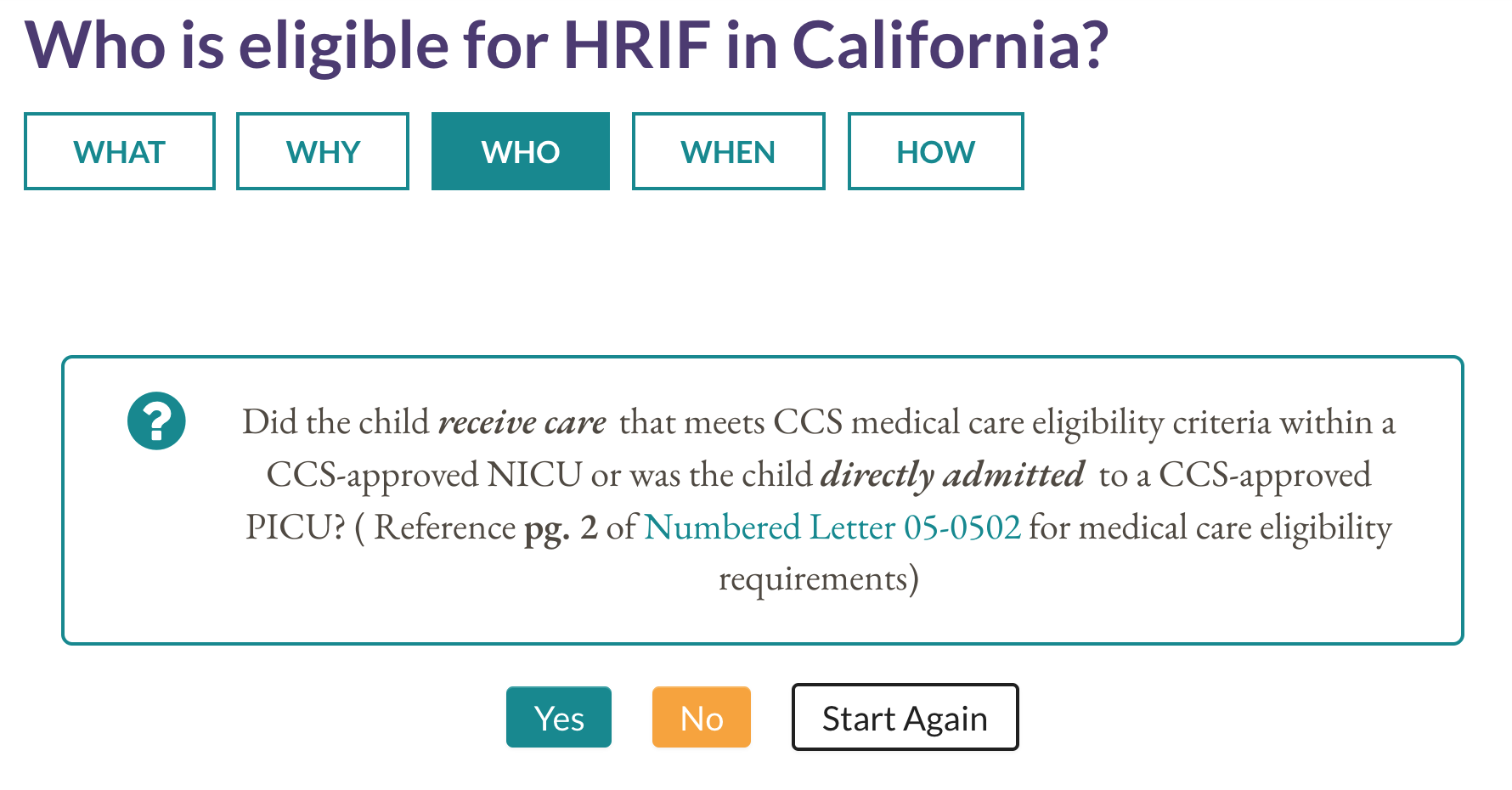 Timelines
CPQCC is a data-driven organization, and does a lot of work to ensure its data is accurate and timely. Members have so many things to keep track of, and data deadlines are just the tip of the iceberg. To make sure that this process is clear and accessible, we worked with CPQCC to create color-coded timelines that clearly spell out the process for members, new and seasoned alike.
While much of the redesign was focused on the members and making their work easier and more effective, we also wanted to take the opportunity to highlight CPQCC's accomplishments to an external audience. To that end, we were able to re-use the timeline functionality to present a history of CPQCC's important work: showcasing the incredible advancements they've achieved since their founding in 1997.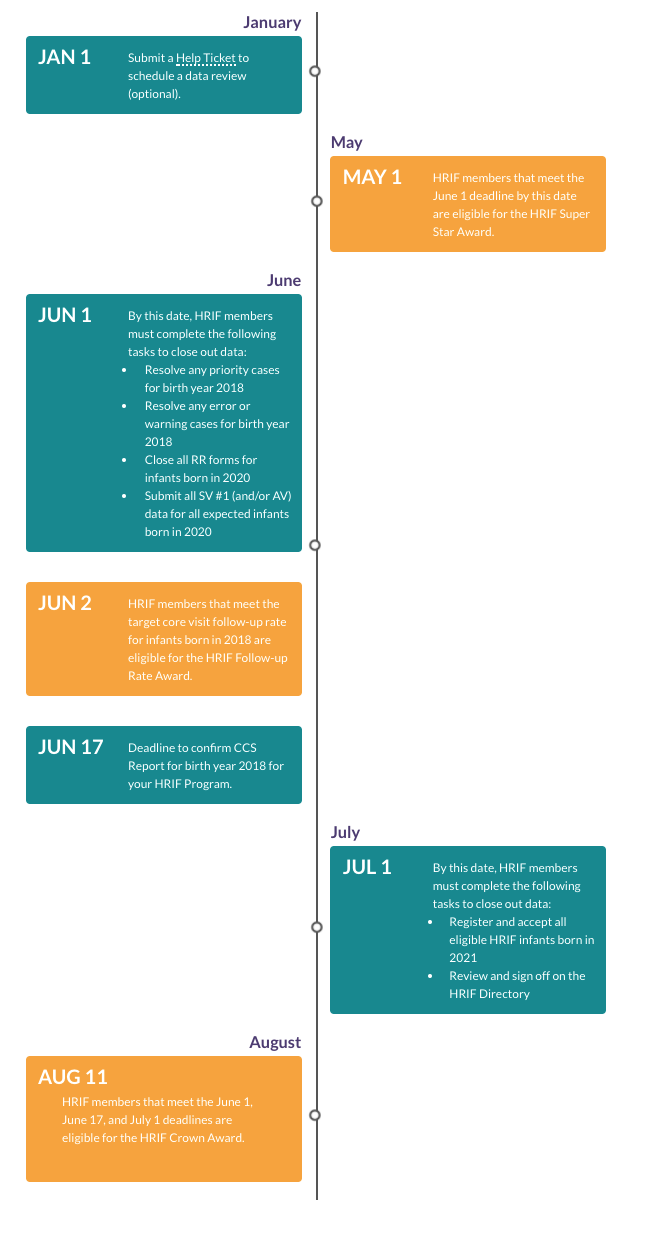 Highlighting Data
CPQCC is saving lives. We wanted to make sure to highlight that front and center. So we created powerful graphics with their impressive data and put them right on the homepage.

Highlighting Success
CPQCC is a network full of members working hard to fulfill their mission. They wanted a great way to showcase their member awards on their site, for members that were going above and beyond. We worked with them to design a process to showcase those awards on the site, and easily add new awards and highlight new award winners. These rock stars deserve it. 

Easy Access to Resources
There's lots to keep track of for providers working with vulnerable infants. We worked with CPQCC to create a resource library where users could see the resources at a glance and find the ones that they need.
But we wanted these resources to also be at the tips of their fingers any time they needed them. So we created different displays throughout the website to bring them the most relevant and up-to-date information to meet them exactly where they are.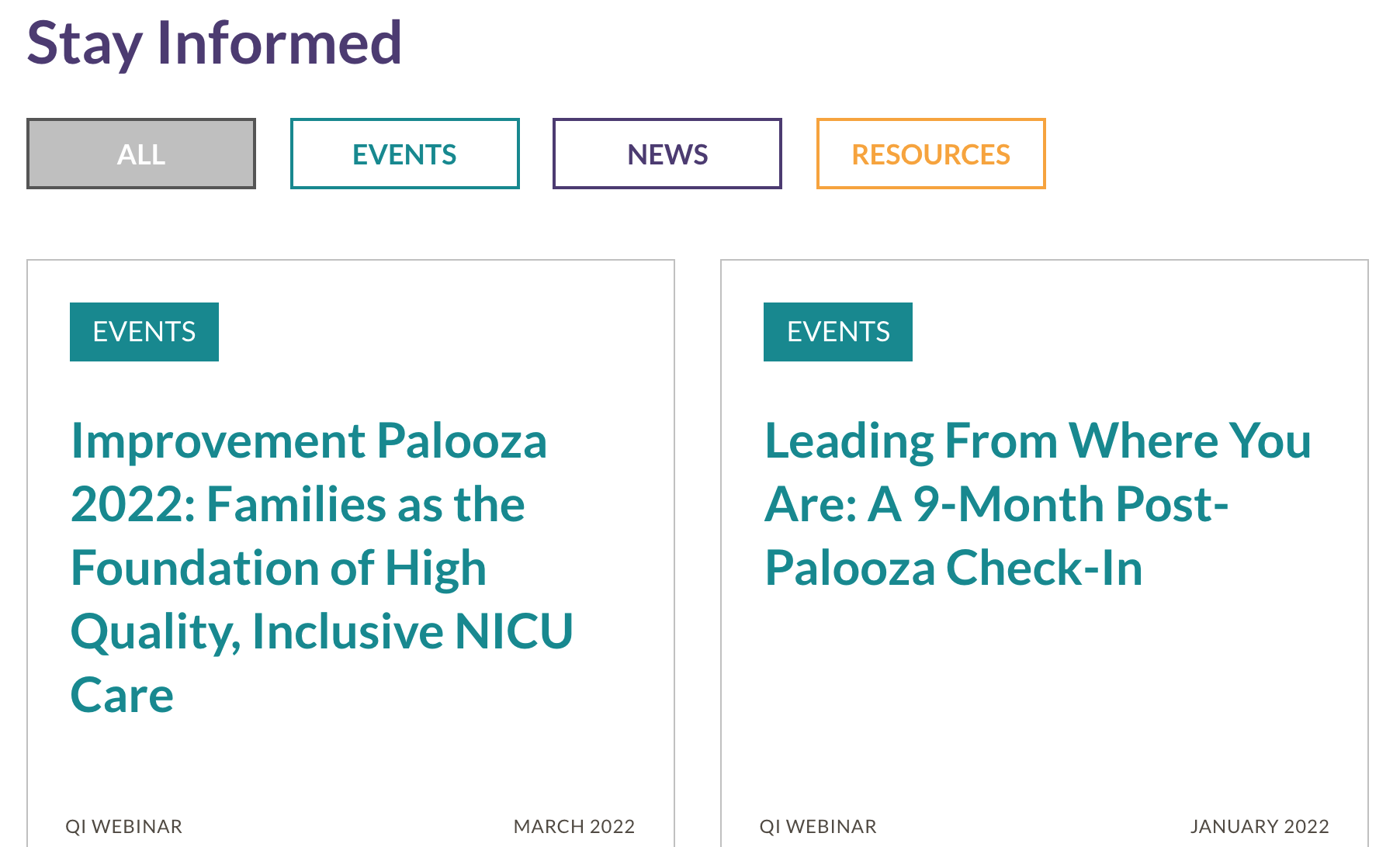 Style Guide
A big part of this process was developing an effective style guide. 
Health care providers are busy. We wanted the colors and fonts to work with them, not against them. So we chose an easy-to-read font, and selected clearly differentiated heading sizes and styles, with branded colors that helped them jump out to the readers.
Additionally, CPQCC works with two distinct populations: NICU and HRIF. We selected colors for each, and used those throughout the site to give a visual indicator to help signpost the users throughout the site.
We are so proud to work with superheroes who care for the most vulnerable among us.